Let me hear you shout: PI-LI-PINAS! I am obviously still on a high from watching the Azkals game versus Chinese Taipei last night.
I don't want to say I'm a very big fan of football, in fact, I don't watch that much, but the Azkals are the exception for me. It's only my second time to watch their game live but like the first time, I am again elated from the entire experience!
We were actually having second thoughts to watch the game or not because it was already raining hard yesterday afternoon. But for a couple of minutes the rain let up and so we decided to just go for it. Plus my friend who is a bigger fan says it's also a cool experience to watch the game in the rain.
When we arrived, it was only drizzling so it was all fun at first. My friend was smart enough to bring garbage bags for our bags and to sit on cause the bleachers were already wet (and umbrellas are not allowed inside the stadium). It was all good in the first part, we scored two easy goals before halftime but in the middle, it started to rain. HARD.
Since umbrellas weren't allowed we had to rush into a side pit to take cover. It was really raining very hard but much to our surprise, they didn't stop the game! Our boys played for a few minutes more in the midst of the rains (with lighting to top it off!)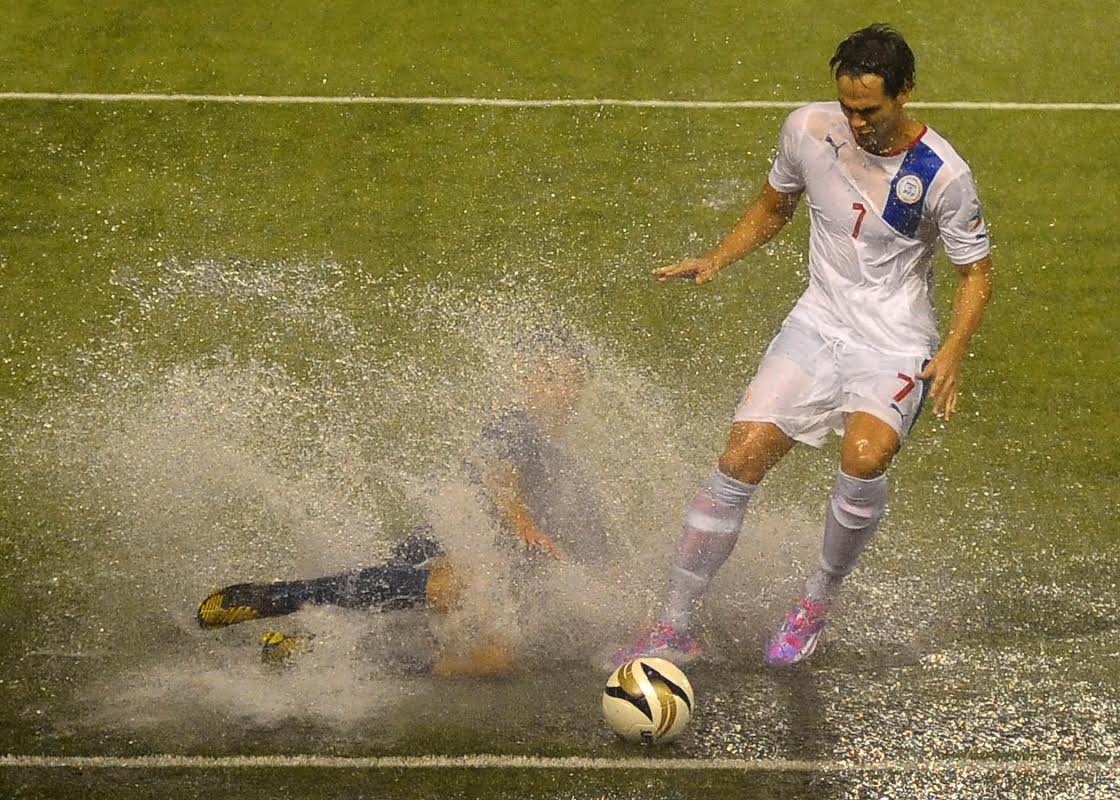 photo credit: gmanetwork.com
The referees had to stop the game though because the rain was starting to get ridiculously strong and the water puddles made the field unplayable (the balls were getting stuck!) We had to wait for about an hour for the rain to stop but afterwards, it was game time again!
The game ended with a strong 5-1 finish from the Azkals. I am happy beyond words for the turn out of the game. Not only did getting drenched in the rain worth it, it also made up for that heartbreaking loss from Gilas :( (yeah, we were also following the FIBA game via twitter) Thank you so so much Azkals! That was truly an amazing game! I am so proud!
On a side note though, I would just like to comment on how some people criticize the Azkals for not being "pure Filipinos". I understand where they are coming from, I myself prefer to have a National team who doesn't look so
white
but I also don't want to discriminate against the Azkals for being half-Filipinos. I think it is offensive to not acknowledge the fact that
they are still Filipinos
. Having a foreign mom/dad does not immediately make you less Pinoy. You are still Filipino because Filipino runs in your veins. It doesn't even matter if you grew up in the Philippines or not. I even think it is unfair to take that against them because I know people who have purely Filipino parents but grew up abroad and are acting more Caucasian than Pinoy. I wish people would stop making it a big deal just because the team looks
white.
No matter what they look like or where they grew up, they are Filipinos and that will not change. If you take that against them, I say that that is a show of discrimination.
I am proud of our team for what they have done and is doing for the Philippines. And whether they are purely Filipino by blood or not, it doesn't really matter because they have the heart of a Pinoy. And if what they are doing (and sacrificing) for the country is not enough for some, then so be it. I still believe that what makes Filipinos
Filipinos
is dictated by what you give back to the country. It is all about how you represent the country. About how you show your love for it. And how despite all the options you are given, you still choose the Philippines above all. That is what being Filipino truly means.
Thank you Azkals for making the Philippines proud!